Bradford Sub Aqua Club
Welcome to the Bradford  Sub Aqua Club website.
The Fin Inn
Brighouse and Denholme Road
Mountain,Queensbury
Bradford,BD13 1LH
To Get In Touch
We meet at our own clubhouse on a Monday from 5.00pm
At Shipley Swimming Pool at 8.00pm on Tuesday evening
At Eccleshill pool on a Friday Evening at 7:15
Our Clubhouse is situated at;
The Fin Inn
Brighouse and Denholme Road
Mountain,Queensbury
Bradford,BD13 1LH

Tel : 01274 812008 (Answer machine)
or email us at info@bradfordsubaqua.co.uk
Club Benefits
whether you want to learn to dive, learn to snorkel,do a skill development course or you are just curious to see what breathing underwater is all about,then you are at the right place.

LEARN TO DIVE
We are a vibrant dive club with an enthusiastic membership. All diving agencies are welcome and all levels of diving ability are catered for.

SNORKELING
We run courses for children and adults who just want to enjoy time in the sea or lakes and rivers.

TRAINING
From beginner to experienced diver, Bradford Sub-Aqua Club can provide a full training programme that enables divers to qualify at their own pace.

TRY SCUBA DIVING
Keen to scuba diving but not sure if it's for you? Then come and try it out in our safe pool environment. Chances are you'll love it and get the bug!

CLUB MEETINGS
For more information why not come along to our clubhouse on either a Monday Evening17:00onward or a Tuesday or Friday Evening at either pool. Or send us a message and we'll get back to you!

WHERE WE DIVE
Members of the club dive in many different place in this country and abroad.Places we have dived are Angelsey, Farne Islands, Scotish lochs,Oban and many other places.
Want to try Scub Diving
Take the plunge! Come along to Eccleshill pool on a Friday night  for a Try Dive to see if you like Scuba diving.
We will introduce you to the scuba equipment and give tuition on diving techniques followed by a scuba dive in the swimming pool with one of our BSAC-qualified instructors.
The Try Dive costs £15 and you will need to read and complete a short medical declaration to ensure that you are fit to dive.
All you need to bring is a swimming costume, T-shirt and towel ,we will provide all the scuba equipment. You will need to be at the pool for 7.00pm so that we can sort out kit and your medical declaration ready for an 7:15 pm start.

To contact us and organise your Try Dive click on the link below.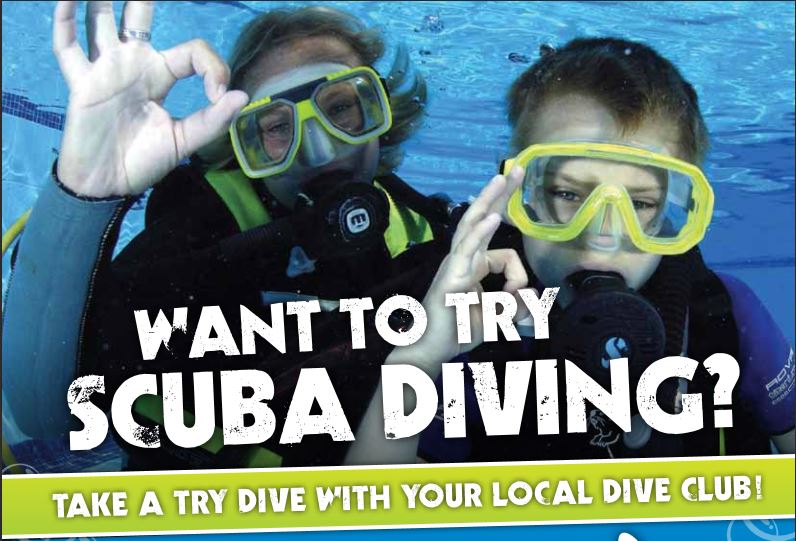 What people say about us.
Great place to learn to dive and meet other people